About iféa
A new model of education based on caring, high standards, and solidarity.
Vision and values
Institut Français d'Éducation pour l'Avenir or iféa is a new model of private secular schools for children from year 2 to year 13. Our mission is to create, implement, and spread a model of caring education with high standards. A child's well-being is fundamental to successful learning. Our objective is to help every child reach their full potential by acquiring a solid foundation of knowledge and skills, so that they have tools to find fulfilment in their adult life and together face the challenges of their generation.
– Naïma, Cédric and Élie, iféa founders
Our values in everyday practice for students and instructors
OUR VALUES IN STUDENT'S EVERYDAY LEARNING
1. Being true to oneself and respecting oneself to lead a more fulfilling life.
2. Being compassionate towards others as a way of adapting to daily interactions.
3. Actively listening to others and using opinions as opportunities for broadening one's horizons.
OUR VALUES IN INSTRUCTORS' EVERYDAY TEACHING
1. Demonstrating respect, commitment, and good listening skills to provide adapted, reassuring support
2. Understanding differences to adapt to daily interactions as needed and to foster trusting relationships.
3. Being true to oneself and respecting oneself to find deeper fulfilment in one's work.
OUR VALUES IN PUPIL'S EVERYDAY LEARNING
1. Having a rigorous, methodical work ethic, both independently and in group settings.
2. Demonstrating curiosity, creativity, and critical thinking to better understand complexity.
3. Learning from mistakes, both ours and others', to develop knowledge and thinking.
OUR VALUES IN INSTRUCTORS' EVERYDAY TEACHING
1. Mastering one's subject area and all the elements that form a demanding teaching framework with specific expectations.
2. Teaching whilst keeping in mind both the specific needs of each pupil and of our school community.
3. Developing critical perspective of oneself and knowing how to moderate comments to enrich one's practice.
OUR VALUES IN PUPIL'S EVERYDAY LEARNING
1. Developing autonomy and initiative for the good of a group and of our school.
2. Being able to identify difficulties around us and offering sympathetic help.
3. Feeling responsible for oneself and others in accordance with school rules.
OUR VALUES IN INSTRUCTORS' EVERYDAY TEACHING
1. Knowing how to take initiatives for the good of the school as a whole and of its individual members.
2. Solving problems by creating an environment that encourages cooperation between school members.
3. Being responsible for oneself and others in accordance with school rules.
Founders
Cédric Page
Head of iféa School
Cédric holds an Agrégation in Mathematics, with 15 years of experience in state education, from Middle School to university. He also has experience as a digital entrepreneur and as a senior executive in a multinational, Business Angel. He is the father of two.
Naïma Page
Educational Director
Naïma is a certified teacher of History and Geography with 20 years' experience in Middle School, Secondary School, and French preparatory classes for long-term studies. She has also trained teachers, is a former member of the CAPES jury, and a reservist with the PMG. She has two children.
Élie Rotenberg
Research & Development
PhD in Computer Science in the field of Complex Systems, graduate of École Normale Supérieure, digital entrepreneur, formerly CTO and R&D director at a multinational.
Our teaching staff
Teachers will continue to be dominant factors for children's success and well-being in 21st century schools. Even in the digital age, nothing can replace human presence to guide a child's learning. For our founders, teachers must not only be experts in their subjects, but also be specialists for each child they are entrusted with and adapt their teaching methods to individual profiles.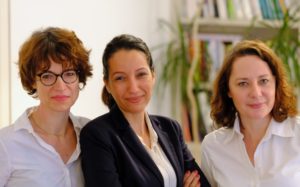 Each of our teachers are experienced and fully integrated within a team which has received special special iféa training. They convene regularly to share their experiences and discuss situations in a structured setting. Teaching practices are evaluated, and the most effective approaches are shared throughout the teaching community.
Our teaching staff partners
Researchers
We want iféa to be a school for the 21st century. Our school forms an open environment in which various partners come together to invent and refine the learning tools and practices of tomorrow. To this end, we work with a number of digital research laboratories and centres, from neuroscience to scientific research. For instance, we have partnered with the Savanturiers programme, which promotes education through research and is attached to the Centre de Recherches Interdisciplinaires (CRI, Centre for Interdisciplinary Research).
A network of specialists
Our teaching staff oversees the well-being of every school student. Whenever in doubt regarding hardship or difficulties, our staff can refer families to specific support with iféa partners. Our network of specialists and experts is made up of psychiatrists, psychologists specialising in gifted children, graphotherapy, sophrology, speech and language therapy, etc.